Sun., April 12, 2015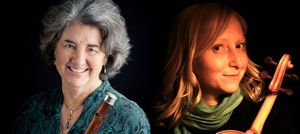 April 12, 2015 3:00pm at Battelle Auditorium
Carrie Krausse director and violinist
Flute soloist Janet See
Olga Hauptman violin
Mary Manning violin
Christine Wilkkinson Beckman violin
Courtney Kuroda violin
Stephen Creswell viola
Nathan Whittaker cello
Jillon Stoppels Dupree Harpsichord
John Lenti Lute
Curtis Daily Bass
---
Program

Sinfonia to "La morte del cuor penitente"
Giovanni Legrenzi (1626-1690)
Sinfonia to "Battalla de Barabaso yerno de Satanas, No. 20"
from Il primo libro di Canzone
Andrea Falconieri (1558-1656)
Sinfonie
Fantasie
Capricci
Brandi
Correnti
Gagliarde
Alemane
Volte
Passacaglia a 4, Op 22
Biagio Marini (1594-1663)
Sinfonia to part II from "La Senna Festaggiante," RV 693
Antonio Vivaldi (1678-1741)
Adagio
Presto-Adagio
Allegro Molto
Flute Concerto No. 2 in G minor, RV 439 "La notte"
Antonio Vivaldi
Largo
Presto (Fantasmi)
Largo
Presto
Largo (Il sonno)
Allegro

Intermission

Concerto No. 1 in E major, Op. 8, RV 269, "La primavera" (Spring)
Antonio Vivaldi
Allegro
Largo e pianissimo sempre
Allegro pastorale
Concerto No. 2 in G minor, Op. 8, RV 315, "L'estate" (Summer)
Antonio Vivaldi
Allegro non molto
Adagio e piano – Presto e forte
Presto
Concerto No. 3 in F major, Op. 8, RV 293, "L'autumno" (Autumn)
Antonio Vivaldi
Allegro
Adagio molto
Allegro
Concerto No. 4 in F minor, Op. 8, RV 297, "L'inverno" (Winter)
Antonio Vivaldi
Allegro non molto
Largo
Allegro
---
Artiest Bio
Seattle Baroque Orchestra was founded in 1994 by violinist Ingrid Matthews and harpsichordist Byron Schenkman, and quickly established itself as one of the most vibrant of the American early music ensembles. The group has appeared across North America from California to Vermont, been featured extensively on National Public Radio, and garnered rave reviews for its six recordings, while winning loyal fans in Seattle for the excitement and intimacy of their live performances. The Seattle Baroque Orchestra has collaborated with contemporary composers, jazz musicians, Baroque dancers, and many of the most prominent soloists in the field of early music.
The goal of Seattle Baroque Orchestra is to awaken contemporary audiences to the vitality of 17th- and 18th-century music through historically informed performance of both familiar and unknown works. We hope through live performances, recordings and educational programs to foster an awareness and appreciation of this music, which not only illuminates past eras but provides a unique lens through which to view our own.
Carrie Krause (violin) serves as concertmaster of the Bozeman Symphony. She has appeared as concertmaster of New Trinity Baroque, Pacific Baroque, and San Francisco Bach Choir; associate concertmaster of Apollo's Fire (Cleveland); and performed with Seattle Baroque Orchestra, Chatham Baroque (Pittsburgh), NYS Baroque (Ithaca), Portland Baroque Orchestra, Baroque Chamber Orchestra of Colorado, and as a founding member of the I-90 Collective. Krause was soloist with Apollo's Fire in Miller Theatre, the Fairbanks Symphony, National Repertory Orchestra, Casper Symphony, and Bozeman Symphony. Recent festival engagements include the Spoleto Festival, Strings Music Festival in Steamboat Springs, Montana Baroque Festival, Big Sky Festival (concertmaster), Belgrade Early Music Festival (Serbia), and Sastamalla Gregoriana (Finland). Krause studied music performance at Carnegie Mellon University with Andres Cardenes and at the Cleveland Institute of Music. She is currently a graduate student in the Juilliard School's historical performance program. Krause plays a Baroque violin from the workshop of Antonius and Hieronymus Amati, Cremona 1625 (generously loaned by Makris Foundation and New Trinity Baroque).
Janet See is one of today's outstanding performers on baroque and classical flute. For over 30 years she has performed as a soloist, in chamber music, and in orchestras throughout North America and Europe. In London, where Janet lived for 12 years, she played principal flute for Sir John Eliot Gardiner's two orchestras, and with those groups recorded the complete Mozart Operas and Beethoven Symphonies as well as numerous other discs. While in London she also played principal flute for 'The Taverner Players', conducted by Andrew Parrott. In North America Janet plays principal flute with Philharmonia Baroque under Nicholas McGegan and has recorded Vivaldi and Mozart Concertos with that orchestra. She also performs frequently with the Portland Baroque Orchestra and as guest soloist with chamber music ensembles throughout the US and Canada.
Among her highly acclaimed recordings are the Vivaldi Concertos and the complete Bach Flute Sonatas, both recorded on the Harmonia Mundi label. Other labels she has recorded on include DG Archive, EMI, Erato, Hyperion and Phantom Partner.
Janet is on the Early Music Faculty at Cornish College of the Arts in Seattle and is an active and enthusiastic teacher of early flutes and also of interpreting the nuance and language of baroque and classical music on modern flute. She received her degree on the modern flute at Oberlin Conservatory, training with Robert Willoughby. Her post-graduate training was with Frans Vester in The Hague. Janet is a qualified teacher of the F.M. Alexander Technique, having trained in London with Walter Carrington. She currently lives on Bainbridge Island, Washington with her husband and son.